---
Zoiper Classic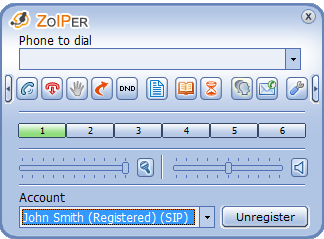 Product: Zoiper Classic
Company: Zoiper
OS: Windows, MacOS, Android
Overview: IAX & SIP multilanguage softphone is a VoIP soft client, meant to work with any IP-based communications systems and infrastructure.
Zoiper is available for Windows, Mac OS X and Linux and supports the following languages: English, German, Spanish, French, Dutch, Portuguese, Russian, Chinese, Japanese, Italian, Polish, Magyar.


---
X-Lite
Product: X-Lite
Company: CounterPath
OS: Windows, MacOS, Linux
Overview: CounterPath's X-Lite helps you seamlessly transition from a traditional phone environment into the world of Voice over IP.
The latest release of X-Lite provides a completely redesigned interface that allows for a contact-centric or dialpad-centric user experience, or a combination of the two. It also provides you with some of the most popular features of our fully loaded Bria and eyeBeam softphones so you can take them for a test drive before you make your purchase.
Having a simple voice conversation, you'll soon see why having a softphone on your desktop or laptop is the ultimate communications experience.